First, some news items:
On Friday, December 8, 2017, Soli Deo Gloria, a women's choir in Fresno that is celebrating its 10th anniversary this year, will present the world première of my Now to the King Eternal, a setting of I Timothy 1:17 that fits right in with the Christmas theme of this concert. Tickets are selling very fast, so I would like to invite all my readers to this concert now, especially if you are in Central California. You may order tickets now at http://sdgchoir.com/. Just scroll down to the link and click there. Oh, yes, who is that handsome guy in the picture of these delightful women? That's Yours Truly, since I am their new accompanist!
I have just released a brand-new CD, Walter Saul: Sonatinas and Bagatelles, a new collection of piano works recorded, not by me, but by an amazing young pianist from Houston, Texas, Ahyeon Yun, who just completed her doctorate at Arizona State University with my five sonatinas as her dissertation subject. She performs them exquisitely, along with some older bagatelles and nocturnes, and the entire CD is masterfully recorded in one of the nation's premier halls, Katzin Hall at Arizona State. This is one of the new releases from Enharmonic Records. This music will not be online for a long time, so please visit https://squareup.com/market/waltersaul/item/sonatinas-and-bagatelles to order your copies today. Of course, as always, sheet music for all the numbers on this CD are readily available at http://waltersaul.com/index.php/keyboard-music/piano/.
Now that we have gotten the requisite advertising and self-promotion out of the way, let me take this opportunity to wish all of you a joyous Thanksgiving. Indeed, we have so much to be thankful for. While I could go on and on counting my blessings, I will focus on two that surround Thanksgiving: veterans and Christmas.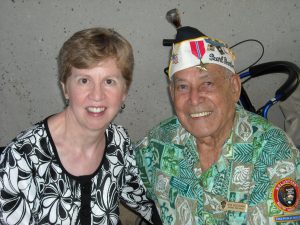 On Veterans Day, for some reason, my mind traveled back almost nine years ago to Hawaii, where we had the privilege of seeing in the new year in 2009 (and worried needlessly whether the newly-elected President Obama's plane would keep us from flying ourselves from Oahu to the Big Island). While we will never forget swimming and body-surfing in January or our submarine cruise through those crystalline waters or seeing sea turtles up close, we remember most profoundly our visit to Pearl Harbor and the USS Arizona. While it was breathtaking to see the Arizona still submerged after 67 years, it was most astounding to hear the story of December 7, 1941, from a survivor of Pearl Harbor, Herb Weatherwax. Apparently, Weatherwax was a 24-year-old draftee off on a weekend pass, riding the same bus route we used to get there, and watching the attack unfold. It is hard to believe that he is finally home with the Lord as of last December, at the age of 99. He wanted his picture all around the world. Well, in honor of him and all our veterans who put their lives on the line so that we may live free, I wanted to share this picture of my sweetheart with him on New Year's Eve, 2008. By the way, the motor scooter behind them is Herb's Hot Rod. As the Greatest Generation from World War II leaves us behind, I fear we are forgetting the horrors and crimes committed by the Nazis and Axis powers, which gave modernism in music much of its prophetic power; can our postmodernism remember this? For this and so much more, I am so thankful for all our vets.
I am also thankful for Christmas. As we join all of humanity in seeking life and light during the dark time of year, my heart bursts with the real hope enveloped in the birth of a real baby from a real virgin two millennia ago. My wife and I treated ourselves to Fresno Pacific University's Festival of Lessons and Carols this afternoon. For many of us Fresnans, this annual event is how we begin the Christmas season, and it included five FPU choirs under the direction of Bethany Alvey, Dan Bishop, and Melita Mudri-Zubacz. My new colleague at FPU, Dr. Alvey, led the Concert Choir, Women's Chorale, and the Men's Chorus in stunning renditions of familiar carols and two delightful new works: O Radiant Dawn by James MacMillan and In a Stable by Jerry Casey. Those of you who follow the Christian Fellowship of Art Music Composers (CFAMC) in this blog and other places will recognize both composers as members of the CFAMC. MacMillan is one of our few honorary members and the subject of Dr. Alvey's dissertation and Jerry Casey's music, including In a Stable, was recently featured at the October, 2017, National Conference of the CFAMC here at Fresno Pacific University. We just got the recordings back from that conference, so I will be reviewing those works in future columns. I was also pleased that another work from that conference, Caffeination, by Kyle Vanderburg, was featured at FPU's Chamber Winds concert just last Friday evening. CFAMC has had a lasting and welcome effect here at Fresno Pacific University!
Speaking of Kyle Vanderburg, his Tempest in a Teapot is the subject of CFAMC's Listening Page #157 this month. I am grateful for Vanderburg's evenhanded approach to life; evidently, he drinks both tea and coffee, so we all ought to feel at home with him. But he transforms the task of boiling water for tea into quite the electronic music drama. His program notes mention "A storm siren from Oklahoma, a spring rain in Montana, a spillway in Missouri."[1] I am wondering if Vanderburg literally made recordings of these three events and artistically shaped these events through electronic manipulation to create this perfect storm. At any rate, this work is a marvelous throwback to modernism, reminding me of my own forays into musique concrete in the late 1970's and of John Cage's appearance on the Ed Sullivan show in January, 1960, with his Water Walk, in which boiling water plays a leading role.[2]
As I ponder how close upon the heels Thanksgiving Day follows All Saints Day I will certainly be joining most of us in thanking the Lord for the family that has surrounded us in our generation and those before and after us. I will be thankful particularly for my uncle John Gouverneur Mosher, who would be 83 on Thanksgiving. A nocturne in his memory appears on the new CD mentioned earlier. Sometimes, as I have said before, these special pieces are expensive to compose. Probably nobody right now knows this any better than Andrew Sauerwein, whose For Joel With Love is the subject of October's CFAMC Listening Page #156.[3]
My relationship with Andrew and Joel Sauerwein goes back at least 25 years. Joel used to be with the IT department of Warner Pacific College in Portland, Oregon, where I taught music for 16 years before coming to Fresno Pacific University. We gave our blessings to Joel as he transitioned from that to a Lutheran pastor in North Dakota. We gasped with dismay as we learned of the cancer that would take his life one day after his 58th birthday last February. In the meantime I had met Andrew at CFAMC and learned of our Duke University connections (we both were undergrads there). I have lost my parents and uncle, but I have not lost a sibling as Andrew has, so For Joel With Love is a very expensive piece, and a precious one at that. It assumes the form and spirit of one of the darker nocturnes of Frédéric Chopin, even one of Chopin's favorite keys of melancholy, B-flat minor. With a very simple melody that spins itself out in quarters, eighths and triplet quarters against a left hand accompaniment that spreads itself out, yet occasionally assumes the mantel of a contrapuntal line, Andrew mourns his young brother eloquently, passionately, yet hopefully. He also assumes a simple twist from William Byrd in constantly contrasting the A natural of the ascending melodic minor with simultaneous A-flats of the descending melodic minor, gently accenting the pain and suffering that Joel and his family have endured these last couple of years. There are a few wonderful Bach-like moments where the overt chromatic climb into the brightness of G minor starts evoking even Arnold Schönberg's twelve-tone rows. In this short episode in G minor, the pain becomes particularly acute as it twice pounds a D Major triad bloodied with an added B-flat and E-flat, and then melts back into an extraordinary return of the first strain, but now elevated up an octave. In this way, Andrew shares the hope of his brother Joel, now free of pain and disease and forever transformed into life forever with the Lord he cherished and served all his life. It is hard to believe that this poignant memory, lasting only two pages and all of four minutes, can convey so much, but it is a beautiful tribute to a fine man of the Lord, and, for this music and the life that inspired it, I am deeply thankful.
[1] William Vollinger, ed. "CFAMC Listening Page #157: Kyle Vanderburg: Tempest in a Teakettle. http://www.williamvollinger.com/audio/Vanderburg.mp3 (Accessed Sunday, November 19, 2017).
[2] https://www.youtube.com/watch?v=gXOIkT1-QWY (Accessed Sunday, November 19, 2017).
[3] William Vollinger, ed. "CFAMC Listening Page #156: Andrew Mark Sauerwein: For Joel With Love. http://www.williamvollinger.com/audio/Sauerwein3.mp3 (Accessed Sunday, November 19, 2017).