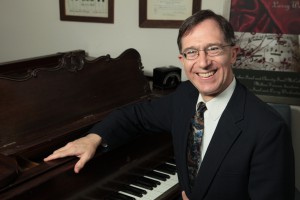 My mission as a composer is to create musical icons, windows of sonic light, that usher listeners into the presence of Jesus Christ and reveal a little of His heavenly glory to us.
Walter B. Saul II, distinguished composer and pianist, holds degrees from Duke and Eastman. His many composition honors include 24 ASCAP awards from 1990-2014, as well as "Composer of the Year" commissions from North Carolina Music Teachers Association (1986) and Oregon Music Teachers Association (1990). He was also awarded the Burlington Northern Faculty Achievement Awards in Scholarship at Warner Pacific College in 1989 and 1992. In 1998 and 2002, he won Warner Pacific College's Kendall Award for Scholarship. In 1996 and 1999, Saul was one of ten composers selected to participate in the Ernest Bloch Composers Symposium in Newport, Oregon. Saul has also received numerous Meet the Composer grants. Performances of his works have occurred in 24 states and six nations. His compostion, "Kiev 2014:Rhapsody for Oboe and Orchestra," was performed by the Fresno Philharmonic in October, 2015. All of his orchestral works have been recorded on the Naxos label, by the National Symphony of Ukraine, with Theodore Kuchar as conductor.
As a pianist Saul has performed and presented clinics extensively. He has been heard on radio in four states and has served as clinician and adjudicator throughout the Carolinas and in Oregon and California. He has performed both books of Bach's Well-tempered Clavier from memory; Book I in 1975 and Book II in 1997, thereby separating these performances by the same amount of time that separated their composition. In a further tribute to Bach, he recently completed From Alpha to Omega, his own volume of 24 preludes and fugues in all major and minor keys, progressing from A major (Alpha) through G# minor (Omega). Three preludes and fugues from this work have been performed in Carnegie Hall in 2004 and 2009.
His biography appears in International Who Who's In Music, Who's Who in Society, Men of Achievement, 5000 Personalities of the World, Dictionary of International Biography, Outstanding People of the 20th Century (2nd edition), and American Keyboard Artists.
He has released six CD's of his works: Out of Darkness Into His Marvelous Light (1998), From Alpha to Omega (2002), Songs of Requited Love (2007), Walter Saul: Sonatas and Meditations for Piano (2014), Quiltings (2015) and Kiev 2014 (2015) This last CD was recorded by the National Symphony of Ukraine, Theodore Kuchar conducting, and features all of Saul's orchestral works. Walter has also released a DVD, Quiltings, which features fabric art by Ann Harwell, artist.  His music appears on a seventh CD, Les flûtes enchantées, and on the Ring of Fire 2001 DVD. Saul has taught at Eastern Illinois University, Pfeiffer College in Misenheimer, North Carolina, and Warner Pacific College in Portland, Oregon. He presently is Professor of Music at Fresno Pacific University, where he teaches piano, theory, composition, music history, and music appreciation. He resides in Fresno with his wife. They have two married daughters and four grandchildren. His mission is to create through music windows of light that reveal and glorify the suffering and risen Jesus Christ.
To read about Walter Saul's recent performances and reviews, click here.